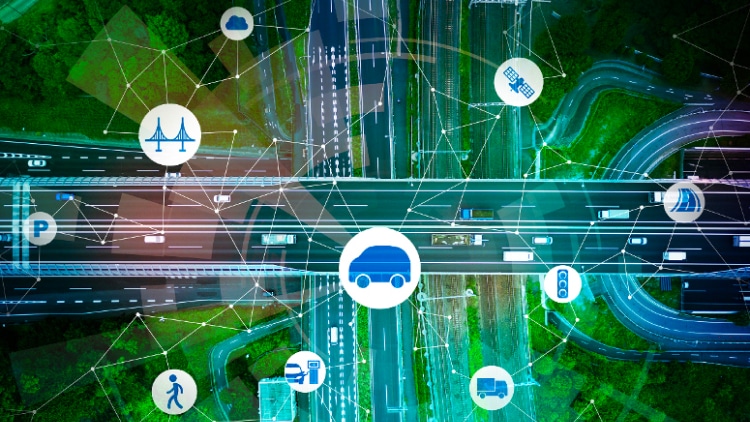 Integrated Real-Time Freight Visibility
In the transportation industry, information is power. Maintaining a competitive advantage relies on ordering cost effectively, scheduling based on market trends, optimizing routes for the price of fuel, and beyond. Additionally, the demand to know the "where and when" of your shipment, in real time, is becoming a business requisite.
What is Integrated Real-Time Freight Visibility?
Integrated real-time freight visibility is the ability to instantaneously track your shipments with onboard technology and a Transportation Management System (TMS) then make educated business decisions based on those GPS coordinates. These enhanced services give customers an advantage with an advanced alert system to track their shipments – ETAs of when they will be picked up and delivered – and make key business decisions on how to manage their inventory, timing and on-site solutions. It also helps transportation companies and their managers in predicting the routes based on shipment location, traffic, the market and other varying factors.
What do customers gain?
With automated pick-up, delivery and status updates integrated with the TMS, this proactive track and trace solution reduces manual call-checks and lengthy email chains through dedicated customer service representatives thereby improving operational efficiencies. By making excess phone calls unnecessary, it eliminates a tremendous amount of wasted time, and gives all parties peace of mind to quickly know the status of the shipment. Integrated visibility solutions allow clients to better plan their workdays and to schedule staff around expected delivery times.
Additional benefits include:
More accurate and reliable information
Increased delivery reliability
Cost savings
Proactive notifications and reduced customer calls
Improved customer and corporate experience
It's important to note that while customers have the flexibility to make decisions while they're en route, they're first advised by transportation logistics experts who forecast the effect of changes in the transport network.
What should you look for when choosing a visibility platform?
Look for provider solution that offers:
Real-time status updates
Integrated solutions
Predictive ETAs
Alerts with proactive solution notifications
Control Tower exception management
GPS-based tracking
Customer portal with site-level visibility
Traffic and weather information
You can't simply install a program or flip a switch for a successful visibility solution. So, how do you plan for success? Your solution needs to be backed by:
PEOPLE
Trained, dedicated customer service representatives working in the Control Tower to proactively find and notify clients of issues/delays with shipments
PROCESS
Operations Compliance – finely tuned TMS software and set of procedures that ensure orders are updated as required to keep data in the visibility solution clean and accurate.
Carrier Compliance – a dedicated team that ensures carriers follow proper tracking procedures and established load plans.
TECHNOLOGY
Integration – the ability to integrate all visibility data with a TMS and access made available where needed
Notifications – engineered alert notifications that are relevant, timely and accurate
Customer access – the ability to provide access to data at all levels
How does KAG Logistics solve this problem?
Every shipping situation is unique and varies day-to-day, thus transportation logistics companies should take a holistic approach when utilizing visibility solutions. One part of this approach should include incorporating advanced logistics technologies such as KAG Logistics' Enhanced Tracking & Alert Solutions (ETA) and Optimate TMS – a best-in-class integrated tracking solution that includes a network of over 500 carriers across North America – that can help your supply chain operate at peak efficiency.
This is just one piece of the transportation puzzle that KAG Logistics has put together – helping customers and carriers to realize visibility potential and think beyond track and trace. You can benefit from a comprehensive, enterprise program to help manage your entire supply chain to become more competitive in the industry.
KAG Logistics
You're tasked with difficult decisions every day – challenges with driver shortages, capital constraints, capacity concerns, and supply chain uncertainties. Contact KAG Logistics today, so you can focus on your core business with the peace of mind that we are doing what we do best for you – Deliver every load. On time. Without incident. www.thekag.com/logistics