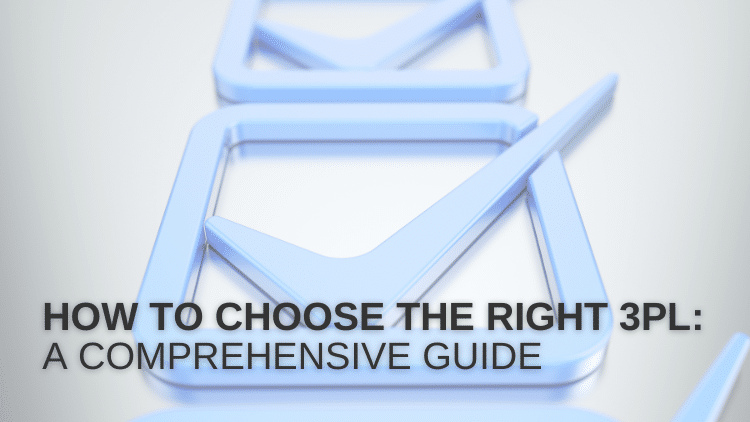 How to Choose the Right 3PL: A Comprehensive Guide
In today's hypercompetitive business space, companies are turning to third-party logistics (3PL) providers to increase efficiency, drive savings, and improve customer satisfaction; however, not all 3PL providers are created equal. Choosing the right 3PL partner is crucial for the success of your business. Let's explore seven key factors to ensure the 3PL provider you select can be a strategic long-term partner.
Industry Experience and Expertise
One of the most critical aspects to assess when choosing a 3PL provider is the depth of their industry experience and expertise. Look for providers with a proven track record. An experienced 3PL provider understands the unique challenges and requirements of your industry, allowing for better handling of your logistics needs.
Range of Services
Evaluate the range of services offered by the 3PL provider. Do their offerings align with your requirements? Some businesses may need additional value-added services such as inventory management, transloading, or cross-border solutions, while others only need basic transportation services.
Scalability and Flexibility
Choose a 3PL provider capable of scaling their services to accommodate your evolving requirements. Assess their ability to handle seasonal fluctuations, supply chain disruptions, or business expansion. A flexible 3PL partner can adapt to your changing needs and provide customized solutions to meet your specific challenges.
Technological Capabilities
Evaluate the 3PL provider's technological capabilities, including their transportation management systems (TMS) and visibility tools. Seek out real-time tracking and monitoring, seamless communication and integration, efficient order processing, and accurate inventory management.
Network and Infrastructure
Consider the 3PL provider's network and infrastructure to ensure efficient and cost-effective services. Evaluate the geographical coverage of their transportation network. A strategically located 3PL provider can reduce transit times, minimize shipping costs, and improve overall customer satisfaction.
Performance Metrics and Reporting
To measure the effectiveness of your logistics operations, it is essential to have access to accurate performance metrics and reporting. Look for a 3PL provider that provides transparent reporting on key performance indicators (KPIs) such as order accuracy, on-time delivery, and inventory accuracy. These metrics will help you assess efficiency and effectiveness and identify areas for improvement.
Build a Partnership
Select a 3PL provider you can trust. A trustworthy partner will be transparent, responsive, flexible, and financially stable. They'll work alongside you to learn your business and design customized short-and long-term solutions while committing to continuous improvement.
Choosing the right 3PL is a critical decision that will significantly impact your logistics operations and overall business success. These factors can help you make an informed choice and ensure a successful and mutually beneficial partnership.
For more information about partnering with KAG Logistics,
contact us at sales@kaglogistics.com.